Six Sigma Green Belt Training

[

]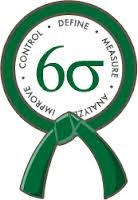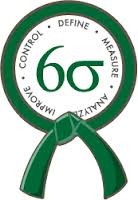 The Six Sigma Green Belt Training consists of two weeks of training separated by approximately one month. The only prerequisite is a basic understanding of Microsoft Office products, such as Word, Excel, and PowerPoint.
The first two weeks of the Six Sigma Green Belt training may be combined with the Black Belt after Green Belt Training to create our four week Black Belt course. You can take the Six Sigma Green Belt course in any city and follow up later with the Black Belt in another city at a later time. You can also mix and match Six Sigma Green and Black Belt dates and locations.
Minitab software is required for Six Sigma Green Belt Training. You may choose to download the 30 day free trial in time for the class, or you may choose to purchase a deeply discounted version of Minitab at time of enrollment.
Check out Our Schedule for Six Sigma Green Belt Training Below
Agenda
Added Features
Coffee Service
Light lunch offered at most public locations
Professionally printed Color Laser student notebooks
Fun and exciting exercises
Relaxed learning atmosphere
Generic Project examples
Generic Project Charter examples
Certification review of Green Belt project
Certificate after project acceptance
On-site Consulting Support at a discounted rate
Week 1 Six Sigma Green Belt Agenda
Overview of Six Sigma
The Six Sigma Roadmap
How to Define and Scope Projects
Launching and Managing Six Sigma Projects
Organizational Roles and Responsibilities
Process Mapping
Cause and Effects Matrix
Failure Modes Effects Analysis
Introduction to Minitab
Introduction to Lean Fundamentals
Basic Statistics
Basic Quality Tools
Intro to Statistical Process Control
Measurement Systems Analysis
Intro to Capability Analysis
Intro to Multiple Variable Studies
Technical Assessment
Project Planning and Reviews
Project Support
Week 2 Six Sigma Green Belt Agenda
Week 1 Review in Class Project
Advanced Graphical Data Analysis
Multi-Variable Planning
Variation Trees and Funneling
Hypothesis Testing
Central Limit Theorem
Statistical Analysis Roadmap
Analysis for Means and t-test
Confidence Intervals
One-way ANOVA
Correlation and Regression
Multi-Variable Analysis
Simple Experiments
Capability Analysis
Control Methods
Technical Assessment
Project Planning and Reviews
Project Support
Learning Outcomes
After attending this training, participants will be able to:
Describe Six Sigma roles within an organization
Use statistical tests to improve processes
Use Minitab to run statistical tests
Define a Six Sigma project
Create charts, process maps, and control plans needed to complete a Six Sigma project
CEU and PDU credits will be provided to students after successfully completing the training and required exam or a live project for certification. In addition, attendees must attend all training and participate in all classroom exercises.  If a student misses more than one day of training, make up work must be completed before the final exam may be taken and a training certificate, CEU's or PDU's will be issued at this time or after the successful completion of all the training and a live project. A live project is required for certification. Project should be submitted to Six Sigma.us within 6 months of the last day of training for certification. Projects should illustrate an understanding of the tools and concepts of the appropriate training level (i.e. Black Belt). Individuals interested in receiving PDU's or CEU's only my take a comprehensive online exam in lieu of a submitting a project with the instructor's approval. The instructor will determine, if testing or completion of a project is the appropriate means of assessing the student's understanding of the subject matter. Students wanting to receive Six Sigma certification will be required to complete and submit a project for Master Black Belt review.
60 PDU's will be awarded for successful completion of the two week Green Belt training and final exam or live project.
6.8 CEU's will be awarded for successful completion of the two week Green Belt training and final exam or live project.