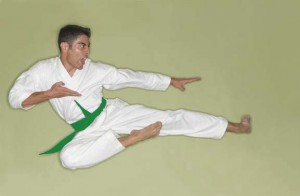 Green Belt training benefits can be found within all areas of business. In fact, Six Sigma has become a vital tool in the world of business. With today's economy, Six Sigma can be a very important part of reducing costs within an organization by improving processes. Because of this trend, Six Sigma certifications are an attractive asset for individuals seeking employment.
Companies implement Six Sigma methodologies through Green Belts, Black Belts, and possibly Master Black Belts. Green Belt training benefits include the ability to create a highly structured internal organization by using statistical analysis to fix processes within the organization that are not functioning properly.
The broken process could be anything from maintaining an accurate database to streamlining hiring procedures. The outcome will be a hard or soft money savings. Many times there is the added benefit of improved customer service, especially when the process involves product production or call center processes.
Six Sigma Green Belt training is the first step to reorganizing a structure that has yielded negative or less than desired results. Employers are quickly discovering that spending money to enroll students into a Six Sigma program can easily be recouped. Because one of the Green Belt training benefits is the requirement that students complete a live project for certification. Global Six Sigma's Green Belt training benefits incorporate hands on experience through exercises and while working on a live project that will improve your company's bottom line.
Six Sigma is being implemented in a variety of industries, including health care, hospitality, service, government, manufacturing, and many more. Individuals seeking employment can increase their odds of finding a rewarding position by achieving Green Belt certification. Global Six Sigma's Green Belt training offers a multitude of advantages, as mentioned below.
In Class Instruction or Green Belt Training Benefits
We have designed an easy way to learn about the Six Sigma process with step-by-step training.
Students will study and learn about the DMAIC process, which is a key element of the entire Six Sigma process.
Students will learn problem solving methods and other analysis techniques without complicated statistics.
Exercises are problem based and an interactive approach is used to help students learn.
Classroom settings are intimate. On average you can expect around 10 people per class with no more than 25 students. This gives the instructor the time to focus on individual questions and needs as they arise during the Green Belt training phase. In other words, the instructor can spend more one-on-one time with each student regarding his or her project. Participants from the same organization may work on the same project as a group.
The training is perfect for individuals involved in process improvement, or those that want to further their career.
We use case studies from past students to show how real world problems found solutions using Six Sigma methodologies.
The Green Belt training benefits also include the ability to take courses online from the comforts of your home. Many students decide to use this option, since it provides the convenience of juggling their hectic schedule, while receiving the appropriate training.
Online training includes all of the necessary study material, as well as project templates and reference books. In addition, you may choose an online training option, which includes a full version of Minitab software. You may also upgrade the program to include Green Belt project review and certification. Working on your Green Belt from home also has its advantages.
Advantages of Online Green Belt Training
Online training allows you to work at your own pace. You have one year to complete the Green Belt online course.
There are no classes to attend, so the training is flexible. You can work when and where you want. The training is available at anytime of the day or night and may be accessed from anywhere in the world. This is perfect for individuals with a demanding job or active lifestyle.
This is a cost effective alternative to traditional training. You will not have to pay for the travel costs associated with going to another city for in class instruction.
All quizzes and tests are taken over the computer, and you will receive your scores immediately. You may retake exams as many times as necessary at no additional charge.
Greenbelt Group Training Program
Global Six Sigma also provides onsite Green Belt training benefits for groups of 10 or more. Onsite training allows us to focus on your organization's needs and provide customized training for an additional charge. This is an excellent way to implement Six Sigma into an organization. We will mentor your Green Belts through their first project and assist you with the implementation plan.
Green Belt certified individuals are more confident and help drive process improvements by implementing Six Sigma methodologies into the business structure. Green Belt training benefits include the skills necessary to take on the responsibilities of implementing Six Sigma practices. These trained individuals, who have learned the DMAIC model, will have the knowledge and the all important ability to use proven Six Sigma problem-solving methods and statistical tools that will help a business achieve beneficial hard or soft money savings.
To find out more about Green Belt training benefits, visit your favorite job site and perform a search for Six Sigma or Green Belt. This will provide you with the qualifications needed and the industries currently seeking Six Sigma certified individuals. If you would like to learn more about Six Sigma or Green Belt training benefits, please contact us.